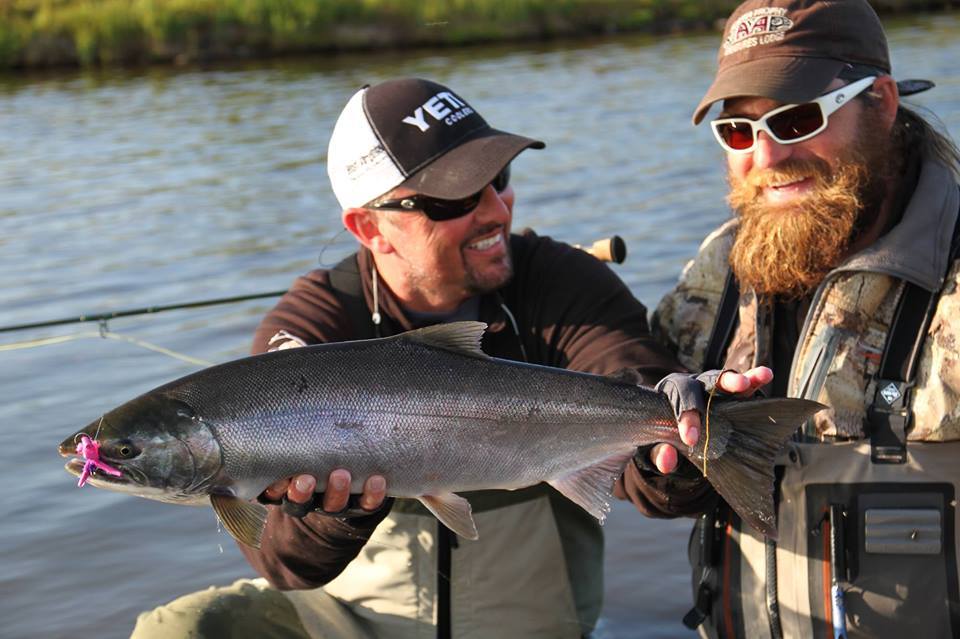 Alaska Trophy Adventures Lodge is looking to hire qualified and motivated individuals to guide fly fishing trips and captain jet boats for this season. The lodge consists of 160 acres of private property on the Wild and scenic Alagnak river in Bristol Bay, Southwest Alaska. The river is well known for its record runs of all 5 species of pacific salmon but also is home to resident fish such as rainbow trout, lake trout, arctic grayling, arctic char and dolly varden. The resource is only accessible by jet-boat so boating experience is a must and a U.S.C.G. captain's license is required. Candidates must demonstrate proficiency in all aspects of fly fishing related to the region, including equipment, techniques and entomology, but prior guiding experience is not required. Fishing guides join a small, growing professional staff committed to providing quality, memorable fishing experiences and enriching guest experience. Alaska Trophy Adventures Lodge hires individuals committed to excellence in hospitality and safety, who support conservation efforts, desire to grow and learn, and who seek to set the high-water mark in their professional and personal lives. Does this sound like you? Then apply to join our growing team!
Guide Duties and Responsibilities:
·        Excellent risk management capability in remote settings
·        Engage and respond to guests in a positive, friendly and supportive manner,
including meeting their expressed and unexpressed needs
·        Provide meaningful interaction with our guests on nature, entomology, Wild and
Scenic Rivers, Pacific salmon fly-fishing etc.
·        Take care of Alaska trophy Adventures Lodge equipment and facilities
·        Professionally represent Alaska Trophy Adventures Lodge and its Mission, Vision and Values
·        Act as a good steward of the natural world and follow Leave No Trace practices
·        Safely captain and maintain jet-boat
·         Participate in upkeep and maintenance of lodge and property when and if needed
Guide Qualifications:
·        Legally allowed to work in the United States
·        U.S.C.G captain's license required 
·        Experienced in all aspects of fly fishing on rivers, streams and lakes, including fly fishing equipment, techniques and entomology
·        Basic first aid and CPR required (Red Cross / American Heart Association)
·        A positive, supportive team player
·        Excellent verbal communication skills
·        Physically fit, able to work long hours in the field
·        Experienced in guest services or group leadership preferred
·        Ability to obtain an Alaskan Guide License
CONTACT Email:  atalodge.wayne@gmail.com with your resume & introduce yourself.